Well, so far, so good.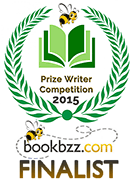 I am informed that
Maximilian and Carlotta Are Dead
has been short-listed (I've always wanted to use that term in relation to a book I wrote!) for
BookBzz.com
's Prize Writer Competition. The competition now goes to a public vote, which runs during the entire month of February. Prize winners will be announced on March 5.
Strangely, the thought that most prominently comes to mind is a sentence that I have mocked many times on
my movie web site
. But darn it, it is actually true. It's an honor just to be nominated!