Reading Clae Johansen's book turned out to be a good start for immersing myself in World War II and, by extension, the Cold War. During the extended combined St. Patrick's Day and Easter school break, we took a few days to visit Berlin.
There were a number of reasons we settled on that particular city. It is a relatively short and easy journey from Ireland. We had heard great things about the place from our neighbors. It gave my kid a chance to practice the German language, which she is studing in school. And, for me personally, it was an opportunity to do a bit of research. You see, I can divulge that in my third book, which will be a sequel to
Maximilian and Carlotta Are Dead
, my protagonist Dallas Green will venture off on another daft quest in a foreign country. Among the places he will wind up will be Berlin in the year 1980.
While the Berlin of today is a very different place from the divided city of the Cold War era, the place is brimming with museums, memorials and reminders of what that time was like. In fact, Berlin has done an excellent job of preserving and educating about its often difficult history. The German Historical Museum, in particular, does a great job of teaching the entire breadth of German history via art and artifacts. The Topography of Terror museum provides an exhaustive and stunning chronicle of the Nazi era. And, of most literary use to me, the Checkpoint Charlie Museum shows and teaches one anything one might want to know about Berlin during its divided period.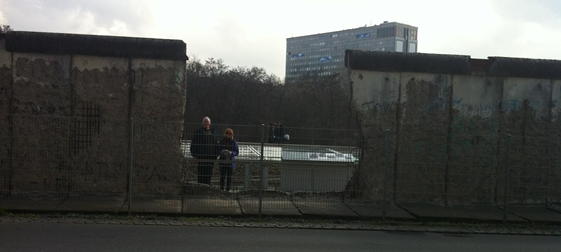 My kid and me behind a remnant of the Berlin Wall
Strangely, this was the first visit to Germany for any of us. I say strangely because I grew up thinking of myself as "German," in the way Americans often tend to embrace a second or previous nationality. This was because my mother's parents' first language was German, but I eventually learned that my mother's people were more accurately described as German-speaking Dutch nomads with little actual connection to Germany itself. There were never any ancestral places for us to go visit in Germany as there were in Sweden for my father's family.
By a happy accident, while in the German capital we made two new friends—Berlin-dwelling friends of Irish friends—and, before bringing us to a concert at the Komische Oper Berlin, they brought us to a fun and bustling Bavarian-themed restaurant (complete with lederhosen-wearing waiters) for dinner. I had to laugh when I saw the name of the place. It was Maximilian's! So, of course, I had to explain to our new friends that I had wanted to come to Berlin for inspiration for a follow-up to a book which featured the name Maximilian prominently in the title.
Talking about that book then and there was very strange because one of the people to whom I was describing it was a woman who—at an age only slightly younger than my own daughter is now—had to abandon her native Vietnam in the wake of the American withdrawal and fall of Saigon. She now has—or will soon have—a copy of the book, and I wonder what she will make of how that painful period is portrayed from the point of view of young men facing the prospect of fighting in that war.
Now that the school break is nearly over, I am more than ready to make use of my Berlin experiences as I continue writing book number three. But first there is the not-so-small matter of book number two. I have been getting useful feedback on the draft I sent out and, with hopefully not too much more delay, I will be getting that book finished and into the hands of readers.