Are you getting tired yet of me going on about the new book?
Of course, you're not. I haven't even posted anything on this book blog for a whole month. I have actually done the exact opposite of what you are supposed to do when you release a book. Instead of making myself constantly present in every kind of social media possible, I just sort of went away. Well, not exactly away, but I went quiet in places where people might logically be looking for information and updates about
Lautaro's Spear
. This was not the plan. It was just what occurred. My wife's birthday. Vistors from abroad. Journeys to the capital. Things happened.
At least I managed to get the new book, as well as its predecessor, into the reading queue of a talented French filmmaker who, unlike myself, actually knows Deauville where some of the book is set.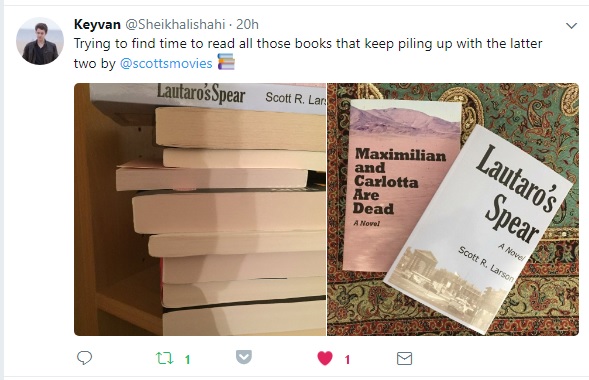 So now that I'm back, what more can I say about
Lautaro's Spear
? How about some inside information not available anywhere else? For instance, what is the photograph on the book's cover? It is the Place de la Victoire in Bordeaux, a place that is mentioned in the novel. Dallas hitches a ride from there to the suburban campus of the University of Bordeaux with a French student. That is something I did many times myself as a student there, beginning in 1973, which is when I took the photo.
What about the photo on the back cover? If you've read the book or if you've ever been to Berlin, then you probably recognize it as the sign at Checkpoint Charlie from Cold War days. I am almost certain that this is not the same sign that was actually there before 1989, although on the other hand I do not know for sure that it isn't. I found some great and authentic archive photos of the real signs on the internet, but since I could not determine copyright ownership of those photos, it was easier (okay, lazier) to just use a photo I took myself when I was in Berlin last year.
After the book was released, I kept waiting to hear from people who were disappointed. One thing I know about sequels is that everybody has his or her own idea of what they want from a follow-up to something they have already seen or read—just as people have their own ideas about what they want from film adaptations of their favorite books—so you are not going to please everybody. I was pretty sure that there would be people who wanted Dallas's story to continue without a gap with him still being 18 or, more accurately, 21. Interestingly, I have not heard from anyone who minded that his chronicle jumped ahead nine years, although I have heard from people who do not want such a long gap for the
next
book. My little nod to readers who wanted more of the same was the first chapter, which was actually suggested to me by my friend Marcella—except that she wanted Marisol to return for real and not just in a dream (spoiler alert!).
One thing that pleased me was that at least one reader (not surprisingly, on this side of the Atlantic) spotted my reference to Lord Lucan. If you do not know who that is, well, that is what search engines are for. Look him up and then go back and re-read chapter 13.