A legendary reclusive filmmaker. An enigmatic cook and restaurant proprietor, who is clearly more than he seems. Two mysterious deliveries to be made behind the Iron Curtain. A desperate search for a long-missing old friend. An unexpected love affair on the coast of Normandy. Dallas Green's life has only gotten more interesting in the years since his wild youthful adventure in Mexico, as told in the novel Maximilian and Carlotta Are Dead. In the year 1980, he is now a photographer, living and working in San Francisco, where he adjusts to a world very different from that of his rural roots. He may be older, but that does not necessarily mean he is any wiser, as his continuing romantic misadventures attest. Lautaro's Spear is Scott R. Larson's third book, following the fantasy novel The Three Towers of Afranor.
Yes, it's official! The marketing copy (see above) has been provided to the printer and other entities in the book distribution process. The official release of my third book is on the calendar. The new novel is called
Lautaro's Spear
, and it should begin to be available in paperback and digital formats from the 29th of September. The grinding wait is at last over.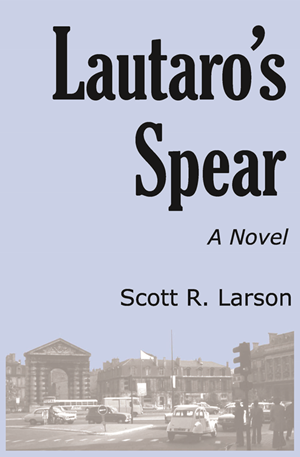 Okay, I know what is going through your mind. You have two burning questions: 1) who the heck is this Lautaro guy, and 2) what on earth is he going to do with that spear?
The short answer is that Lautaro was a real person and he has just as much to do with my third book as Emperor Maximilian and Empress Carlotta had to do with my first book. If you are not familiar with Lautaro and would like to know who he was, use a search engine. You're on line anyway, so it should be no big deal. Go ahead, I'll wait. Anyway, while Lautaro is certainly referenced in the book, it is not actually about him, so do not expect it by any means to give you an exhaustive biography of him.
More relevantly,
Lautaro's Spear
is the novel that some people insisted I write because they wanted to know what happened next to Dallas Green. The good news for me is that David Lynch and Mark Frost have seriously lowered the bar for granting fans closure when it comes to sequels. I can honestly promise you that, when you reach the end of this novel, you will have far fewer frustrating questions about Dallas's fate than you probably have about any of the various characters in
Twin Peaks
. Having said that, I suppose truth in advertising compels me to advise you that the first comment from the first beta readers was that they were anxious to read the
next
installment.
As I have written here before, I had actually felt that
Maximilian and Carlotta Are Dead
ended on satisfactorily resolved note, and I was kind of surprised when people kept telling me the story needed to be continued. I feel more or less the same way about
Lautaro's Spear
. I would be perfectly happy to leave the story where that book ends, but this time I know better. Also, a wish for a third installment also came from my wife, who has not yet actually read
Lautaro's Spear
but who likes books to come in sets of three. So, unless I get a lot of people telling me, please, no, just let the story rest where it is now and do not bother us with more details of Dallas's wayward life, I will be writing another sequel.
With the book at last ready to be set free, I now have time and motivation for spending more time on this blog, so watch here for details, thoughts, information and, most importantly, links to where you can acquire the paper and/or digital versions from the various major online booksellers.